7/28 日米協会主催 第61回ゴルフトーナメントのご案内
2021-07-07
7月28日(水)毎年恒例のゴルフトーナメントが開催されます。
アーリーバードお申込の締切は6月15日です。ご興味のある方はご参加ください。

お申込:https://jassw.org/events/

ご参加費には昼食、プレー代、レンジ代、カート代と夕食が含まれます。
ゴルフをなさらない方は夕食のみのご参加も受け付けています。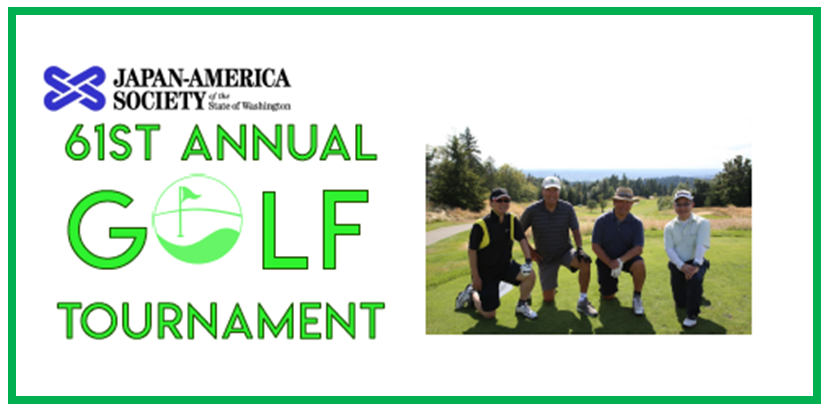 Become a Player!
Includes lunch, driving range, greens fees, cart and dinner!

Registration closes July 21st
Individual Early Bird $225 ($250 after 06/15)
Foursome Early Bird $850 ($950 after 06/15)
Sign up as a foursome to get an additional discount!
Not a Golfer?
Join us for dinner and the chance at raffle prizes! Come early to enjoy mini golf on the Rusty Putter, a beautiful 18 hole putting course featuring panoramic views of downtown Seattle for just $15 extra. Lowest score will win a prize!
Dinner only $75
Dinner and Mini Golf $90
Contests and Add-ons
Contest Package: $30
Includes:
3 shots at the putting contest
3 shots at the chipping contest
3 raffle tickets
1 piece of string for the 'String Game'
3 mulligans
Putting & Chipping Contests: $10 for 3 shots
Cheat for Charity on Hole 8: $20 per team
Hit the Green on holes: $5 per shot
Enter the Hit the Green contest on each of China Creeks five par 3s (holes 2, 7, 9, 11 &15). On each hole where you successfully hit the green you will be entered into a drawing to win half of the money collected on that hole.
Raffle Tickets: one for $5 or five for $20
Mulligans: one for $5 or three for $10